It Could Have Been Worse by A. H. Benjamin is a fantastic book to help students with the skill of predicting! It is a delightful story about a mouse on his way home who escapes all kinds of predicaments that he knows nothing about – however, he thinks that he is having a terrible day due to many falls and tumbles as he unwittingly escapes danger.
I read part of the book to our first graders and asked them to predict what might happen next. We talked about using picture clues to help with predictions. Once they had an idea in their minds, I told the students that we would be using the Book Creator app to make a class book of all the predictions.
iPads were handed out and the book was set up for their predictions. We used the square format, added a name, and wrote a sentence or two about what they thought would happen next. Then I showed the children how to draw right in the book with the pen choice. I love this feature – yes, tools are limited; there is no fill bucket but it is SO easy to draw directly in the app!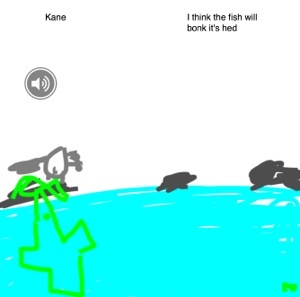 The students then recorded their narration and were guided in emailing the book to me. Two of our classes were extremely fortunate to have several TCU students visiting that day. The college students were a tremendous help to the first graders. In fact, I had planned two 40 minute sessions to complete the book but, with all the grown-up help, the children were finished in one period!
This was the students' first experience with creating their own page in Book Creator and I guarantee, it won't be their last!
Enjoy their class books:
Directions to download books to your iOS device (iPad, iPhone, etc):
You will need the iBooks app (free) installed on your iOS device.
Click on the book link above (while on your iOS device).
Tap on the download button.
Choose Open in . . . and then choose Open in iBooks
The book is now in iBooks on your iOS device.
Directions to read the ePub book on a computer:
You must use Google Chrome as your browser so that you can download the Readium app. The app will not work on any other browser.