Dr. Seuss week at our school is a HUGE undertaking! Our librarians design some wonderful activities that certainly excite our students! But, it doesn't stop with the library – Dr. Seuss is celebrated across the curriculum and we definitely have creativeness shining in the lab.
We started the week with Crazy Hat Day. The second graders and one third grade class visited the lab to draw their rather interesting hats using the Microsoft Paint program.
On Wednesday, some very wacky first graders (and teachers) arrived. We read Wacky Wednesday, by Dr. Seuss and discussed how we could draw our own wacky pictures. This was the first time our little ones had used Microsoft Paint but we ended up with some wacky pictures!
Silly Sock Thursday arrived along with our kindergartners. Since it had been such a wacky week, the students used a wonderful website from the Bronx Zoo called, Build Your Wild Self. The funny thing was that the website didn't quite work as expected. Students would click on an item to add to their wild self and they would get something completely different! We decided it was just a wacky thing happening since it had been a wacky week.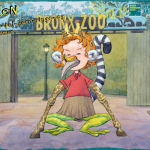 Look at our silly socks!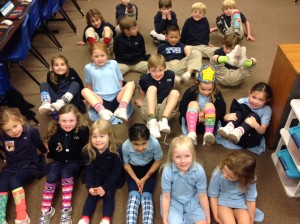 Throughout the week the fourth grade classes rotated between the computer lab, music, and art. In the lab, we read Oh! The Thinks You Can Think! by Dr. Seuss. The students were asked to think of an invention of any kind (a new animal, a different food, something that could help them in some way . . .). The pictures were drawn in MS Paint (We prefer this over apps for our more detailed drawings). I uploaded the illustrations to my Picasa account because we wanted to use the Book Creator app to make a class book and we had to get their pictures to the iPads.
The next step was to choose the book size (we used landscape for this) add the picture, text, and narration to the app. Once each child had finished their book, it was emailed to me. I combined all into class books.
Mr. d'Auteuil's Class Book of Inventions
Mrs. Malone's Class Book of Inventions
Mrs. Wright's Class Book of Inventions
Be sure to open the links on an iOS device with the iBooks app (free) installed. Click on the book link above (while on an iOS device). Download and choose Open in iBooks.
The book can be read on a Mac or PC but you must use the Google Chrome browser with the Readium app. (Instructions on Reading ePub Books with the Google Chrome Readium App)
Friday arrived with students forgetting to dress in their uniforms! Oh, yes . . . pajama day! Dr. Seuss's Sleep Book was the focus for the day. Two third grade classes came to the lab and, after looking at some quite unusual beds, they designed their own dream bed.
What a busy but fun week!
(*We had several absences when I saw the students so if you don't see your child's work, that would be the reason!)