I love International Dot Day! September 15ish is the day to celebrate Peter H. Reynold's wonderful book, The Dot. In the book, Vashti is asked to draw a picture in art class but can't think of anything to illustrate. Her teacher encourages her to "just make a mark and see where it takes you." Vashti jabs the paper with her pencil to create a tiny dot but the next time she comes to class, she discovers her teacher has framed it. From there, Vashti determines that she really can make better dots! At the end of the book, Vashti pays forward what her teacher has done for her by encouraging a little boy who believes he can't draw a straight line with a ruler. This book has two wonderful themes:
Every person is creative in their own special way.
Each of us can find a way to "make our mark" by helping and encouraging others.
This year, celebrating Dot Day was a bit difficult for me. I worked part-time till Sept. 15 due to back surgery over the summer. But I had a wonderful sub, Jane Cooper, who worked tirelessly with many classes to  start our Dot Day celebrations. I returned full-time on September 15 to continue the activities – by the end of the day I was completely exhausted but it was a fantastic day to return! Below are descriptions of how our teachers and students "made our mark."
Kindergarten
Our kinder teachers gave each student a dot and a "swirly gold framed" paper. The students created a picture from their dot.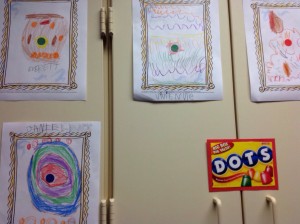 Click here for more pictures from kindergarten.
First Grade
The first graders had a two-part lesson. Mrs. Cooper introduced the students to making their creative mark by reading The Dot. The children were then given the dot coloring sheet for use with the ColAR app (free in the App Store and Google Play). Lots of colorful illustrations were made as the students were told that the following week they would see something magic happen to their dots. When the first graders returned to the lab, I showed them how to use the ColAR app. Amazed "oohs" and "aahs" were heard as my dot became 3-dimensional! The students were thrilled to see their own dots come to life.
View Animoto videos of each class:
Second Grade
Mrs. Cooper worked with the second graders to create a dot using the Drawing Box app. She explained to the students that, just as people are unique, their dots would be different from their classmates. But, when joined together, they would create a tapestry of colors. The children discussed how they were individuals but each unique person was needed to make a successful group – just as each dot they drew was important to the overall tapestry.
Third Grade
I asked the third graders to combine their creativity and a desire to "make a mark" on others by illustrating a picture in Microsoft's Paint program. The students were asked to think about how they could make a difference  – in a person's life (a classmate, family member, friend . . .), by doing a task to help their community, or thinking about something they could do in the future. The students wrote a short description then illustrated their idea. I combined their thoughts and drawings in Animoto videos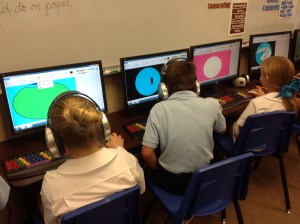 Fourth Grade
Because of time constraints, I was only able to work with two of our three fourth grade classes (the third class participated in Dot Day in Spanish).
In one class, I asked the students to create a PowerPoint slide that included their name written in Braille and clip art that represented some of their interests. The students used the Braille Bug website to convert their name to Braille. They then used the shape tool and duplicate shortcut to create dots to form their Braille name. After adding clip art, I asked the students to save their slide as a jpeg (at this point I hadn't decided how we would share their work). I ended up creating one slideshow with their images.
For another class, I thought I would give coding dots a try. The students had been learning JavaScript with our headmaster, Gary Krahn (see post) so they already had some practice. I asked them to use the ellipse code to create dot pictures. They eagerly set to work and programmed some absolutely amazing images! I loved watching them problem-solve with each other as they worked on placing their dots. When finished, they took screen shots of their work and I combined them into a slideshow.
Of course, Dot Day wouldn't be complete without music, art, and Spanish and those teachers led some very creative activities!
Mrs. Holloway had her music classes practicing musical note writing as they composed Dot songs.
We are proud to be part of International Dot Day 2014 but our creativity doesn't stop in September. We will continue to make our mark all year!