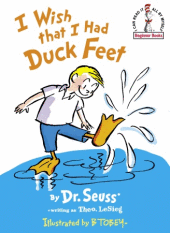 I've been celebrating Dr. Seuss' birthday (March 2) for more years than I can remember (and I've taught for a LONG time!) so I'm always excited when our week-long celebration comes around.
This year I asked our third graders to turn on their imaginations as we discussed on of Dr. Seuss' books. We read I Wish that I Had Duck Feet, a clever story about a boy who would like to have various animal appendages. He weighs the pros and cons of each part and finally decides that he's better off just being himself. (Watch a video reading of the book.)
After reading, the students were asked to think of what they wish they had. What could that animal part help them do? What would they look like? What problems might they encounter if they had that part added to their body?
They were to do two things:
Answer the above questions in a new post on their blog.
Illustrate a picture in Microsoft's Paint program and upload to their blog.
What they came up with was very clever! They seemed to have a great time deciding what animals they could morph into and then realizing that there just might be a downside to having those parts!
Here's a sample post:
The students would love to have you take a look at their posts. And they would be even more thrilled to receive comments!
Mrs. Gramentine's Blog
Mrs. Prescott's Blog
Mrs. Weth's Blog