Second graders have been busy learning about fractions. To go along with their study, we brought fraction activities into the lab.
Mrs. Shapard, one of our second grade teachers, asked her students to write fraction word problems. We had them illustrate the concept using the fraction bars found in the SchoolKit Math app (free). They took two screenshots – the first showed the total number of pieces.
The second showed the answer. We had them crop both images before adding to the book.
The next step was to move to the Book Creator app ($4.99 for unlimited books and worth every penny!). It is such an easy app for all ages and has some very powerful features! One of the best features is the ability to save as a video, which is extremely helpful in sharing a book with families who don't have an iOS device.
The students created two pages by adding their name, inserting their fraction bar pictures, writing the story problem on the first page, and writing the answer on the second. Next, they recorded their stories and answers. And, finally, the books were air dropped to me so that I could combine the individual books into one class book.
Here is the link for the ePub version.
Mrs. Shapard's Class Book of Fraction Word Problems
In downloading the book, be sure to tap on the link while on an iOS device. Choose SAVE and open in iBooks.
Below is the video version of the book:
To make the cover, I decided to experiment with a couple of apps. Here's a chart showing the apps used.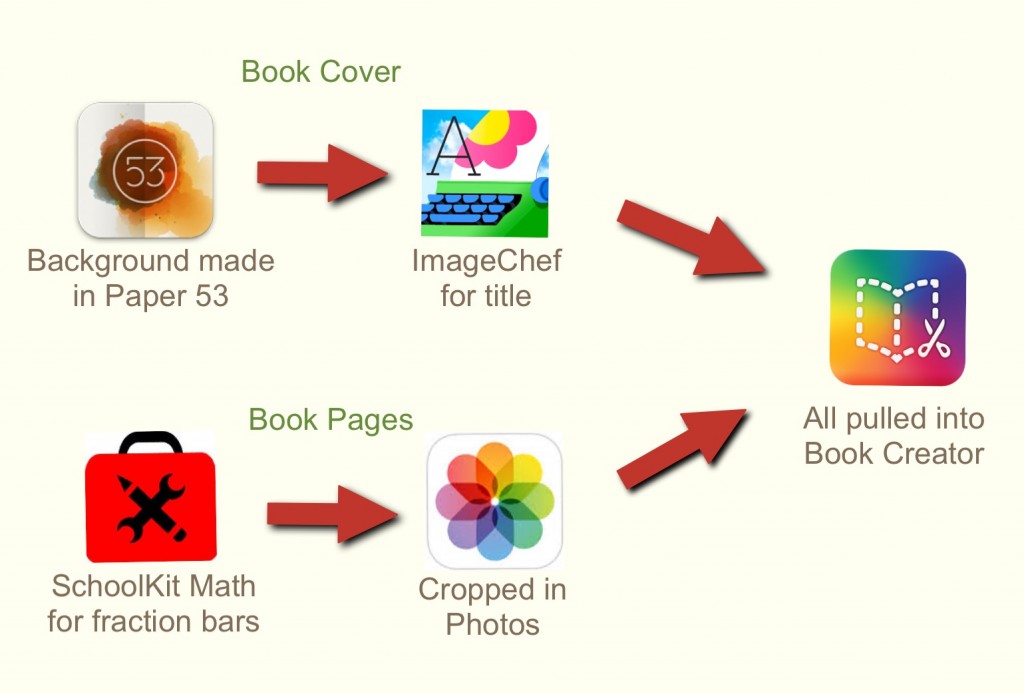 During the process of writing and illustrating the fraction bars, we were quickly able to check each child's understanding of fractions. We were able to reteach as needed. The students are eager to share their fraction stories with our other classes to see if they can solve the problems!