I pride myself on being up on educational strategies but have to admit that Design Thinking slipped right past me until I attended an amazing workshop by EdTechTeacher entitled, Creating Innovators with Design Thinking and Maker Spaces. The maker spaces part was what sold me on this but after a 2-day low-tech workshop, I knew this absolutely HAD to become a part of my curriculum!
What is design thinking? The simple answer is, "Design thinking is a formal method for practical, creative resolution of problems and creation of solutions, with the intent of an improved future result." (from Wikipedia)
However, it is really so much more. Design thinking starts with empathy – gaining a strong understanding of what the user needs; not what the designer thinks he/she needs! The image below from Stanford's d.School shows the framework for design thinking.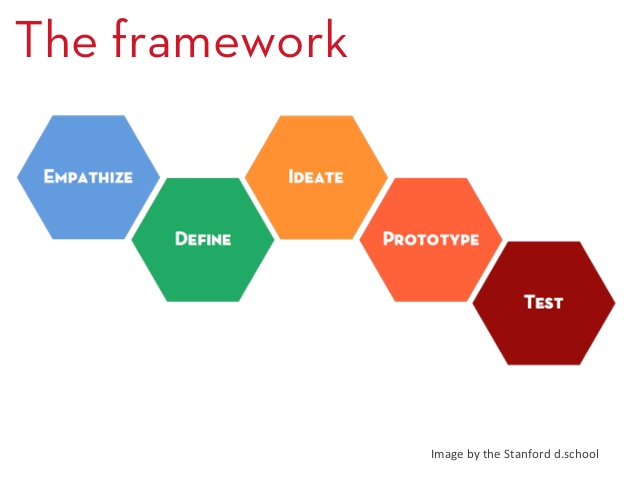 Here is another image that includes details for each segment of the process.
The hook for me was the empathy! The reason – last year I worked with students on creating a collection of memories from that grade. What I noticed over and over was that students were more concerned with taking selfie after selfie rather than collecting photos of events and friends! Yes, young children think a lot about themselves. That's normal. But, if there was something that could be done to help guide children to think of others, isn't that what we would want to do to develop empathetic citizens?
On returning home, I started looking for resources to continue my learning. During a visit with our new headmaster, Ian Craig, discovered that design thinking WAS being taught in our middle school and I had no idea! Also, Ian told me this had been a focus at his previous school so he will be a wealth of information.
In my search, I came across the book, The Launch Cycle: A Design Thinking Framework for K-12, by John Spencer and A.J. Juliani. What I really like about this book and their website is that it is geared toward classroom teachers.
I can't wait to get started!
Save
Save