Ozobots, Ozoeasy sticker codes, and Dr. Seuss!! How much fun is that??
Ozobots are fantastic tiny robots that can be programmed by either drawing in a color code combination or by using the drag and drop Ozoblockly online program. I love these little robots because all ages can use them; they grow with the child.
However, what we've discovered with the younger children is that it can be difficult to draw the codes "just right" so that the Ozobot can read them. That's why I was thrilled to discover the Ozoeasy sticker codes this year. These small round stickers were created by an 8 year old – always fun to tell students that even young children can become an entrepreneur!
Enter the Dr. Seuss theme! Using PowerPoint (Only because I wanted precise lines!), I created a couple of "hats" to go with The Cat and the Hat.
The first hat the children worked with had only one place to draw a connecting line – at the top. The students were asked to choose a color other than black to connect the lines. After demonstrating how the code stickers worked, we talked about best places to add those. For example, the codes have to have black lines on either side and they can't be too close to a corner. Students were also encouraged to draw colored lines across the hat.
After exploring the triangular hat, we moved onto the other template. This one had breaks in the black lines. The children could draw their own code, place a code sticker on a line, or add a connecting line of a color other than black.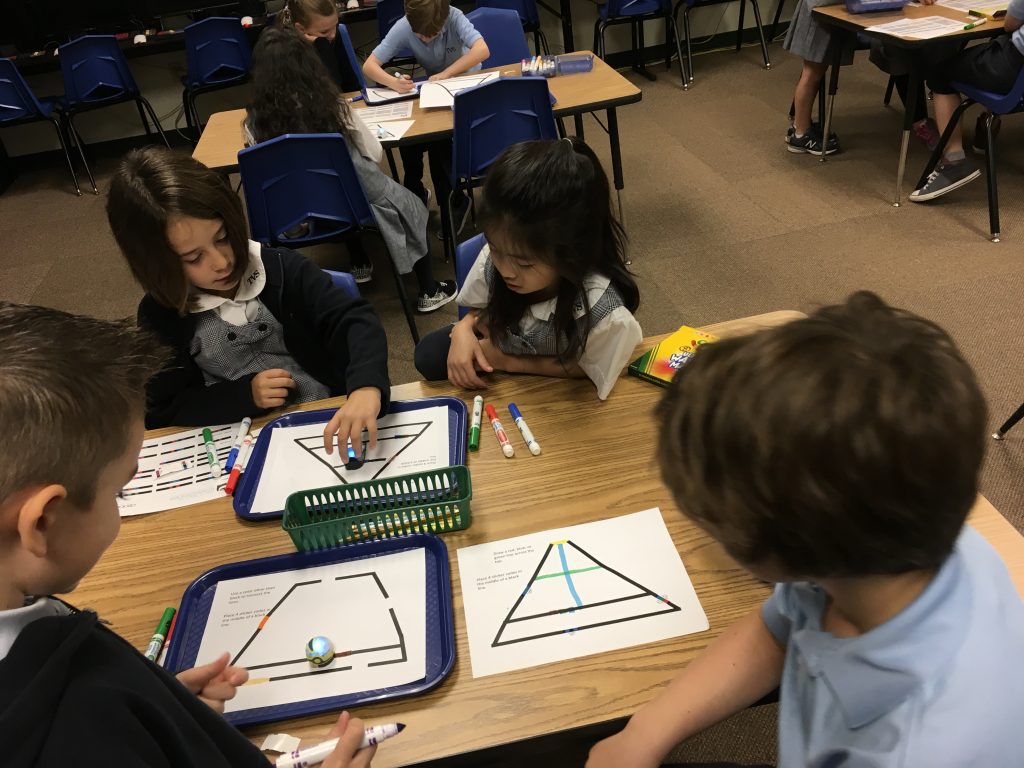 What fun observing as the children discovered how the Ozobot reacted to the colored lines and the codes!
As our time together drew to a close, we regrouped to talk about our observations.
What happened when Ozobot rolled over a line that was a color other than black? What did you discover about Ozobot moving in opposite directions as it traveled over a code sticker? What did you learn about drawing your own codes?
Here are the templates of the hats. There are a couple of options included for each design.