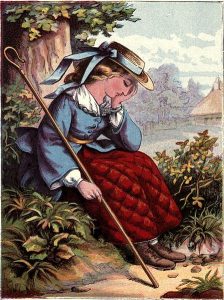 Little Bo Peep has lost her sheep
and doesn't know where to find them.
Leave them alone and they'll come home,
wagging their tails behind them.
I love nursery rhymes and fairy tales and, after doing a couple of design thinking activities with second grade with the fairy tale theme, decided to try something with first grade. While searching on the Teachers Pay Teachers site, I discovered STEM and Mother Goose: Nursery Rhymes with Engineering. After sharing the idea with the first grade teachers, I found that they had just finished a unit on nursery rhymes. Perfect timing! We chose "Little Bo Peep" primarily because we already had several of the materials.
However, when I asked the students who knew the Little Bo Peep rhyme, I was shocked that very few had heard of it! My boys grew up with nursery rhymes and fairy tales, but they are now in their thirties. I guess these aren't as popular as in the past! Oh well, that didn't stop the activity – I read the rhyme a couple of times and talked about poor Little Bo Peep who just couldn't keep up with her sheep! We discussed what prototype meant and said that they'd be using straws, popsicle sticks, and/or coffee stirs to construct their model. Playdoh would be used to hold it together. The prototype would need to hold at least 6 cotton balls (which represented the sheep).
We used the The Launch Cycle model, developed by John Spencer and A.J. Juliani as our design thinking guide. I asked the students to first think what Little Bo Peep needed to keep her sheep in one spot. This was so hard because the children wanted to draw and discuss immediately. Think time was short; less than a minute for this age. Next, I asked the children to draw their ideas on paper; again without talking.
Finally, students were allowed to discuss and improve on their ideas. Lots of talking and hand motions occurred as they really got into the planning stage! Then, the materials were chosen and the building began.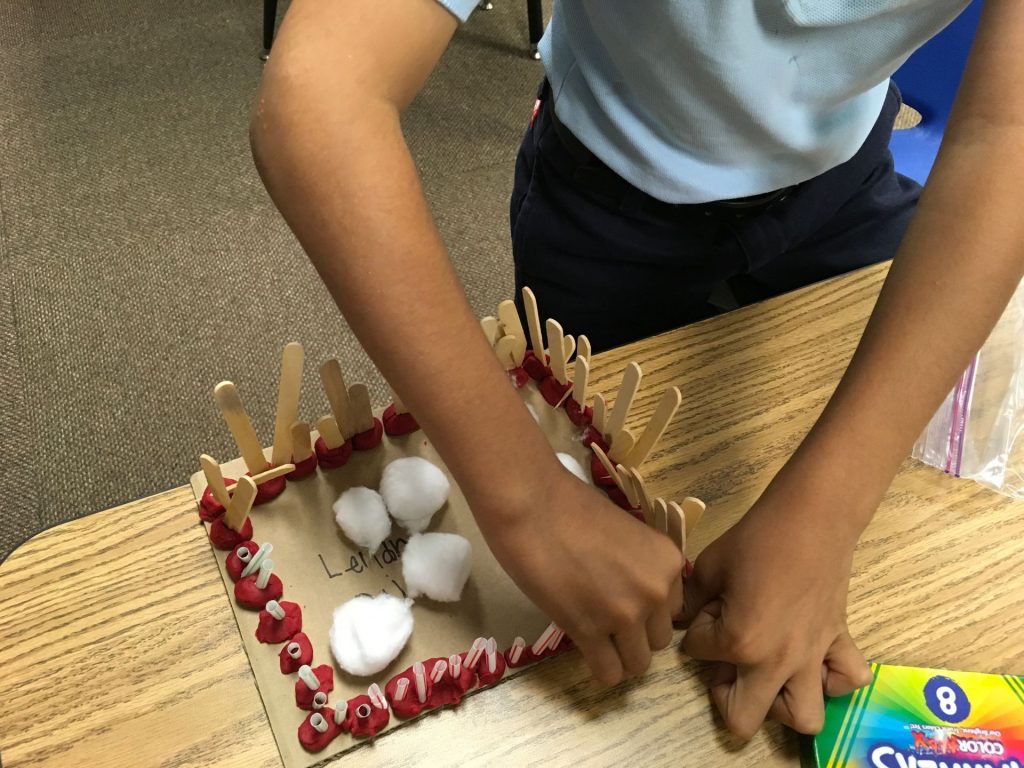 As we walked around the room, listening to the conversations, we heard fantastic collaboration and encouragement.
"Don't lose confidence," said one child to another when frustration was expressed.
Another group was asked by their teacher if the sheep could hop out of the low pen. In an exasperated voice, the makers replied, "No! It's a protype!" She almost got the new vocabulary word – prototype!
Another group was describing their structure and the girl started with, "Well, Mary Bo Peep needs a pen because she keeps losing all her sheep." Love the combination of nursery rhymes!
We didn't finish the first week but that was fine. The following week, the children were SO excited to return to the lab to get their pen built. In the second session, I also asked the kids to take a photo in the Seesaw app and record something about their design.
Sometimes we're hesitant to try design thinking activities with our younger students. After watching the collaboration and listening to the conversations, I'm convinced this is a vital part of learning. These children AMAZED me! Is it messy? Oh, yes! Is it worth it? Definitely!!
Links for other class videos: