What is an Ozobot? A tiny robot that can read specific color combinations that tell it to perform an action. The Ozobot Bit is capable of downloading programs created with Ozoblockly (drag and drop interface). Did I mention these miniature robots are super fun??
I wish I had a photo of the kindergartners faces when I first showed them how the Ozobot followed marker-drawn paths! Were they excited! Knowing I wouldn't be able to keep their attention for very long because they could not wait to get started, I quickly talked about how the Ozobot had a sensor that could read specific color combinations but that it was just a bit picky. Ozobot likes lines and color codes that are "just right" – not too thick and not too thin. We did a quick lesson on drawing a "just right" line, calibration, and even cleaning wheels. Then I told what they'd be exploring for the day.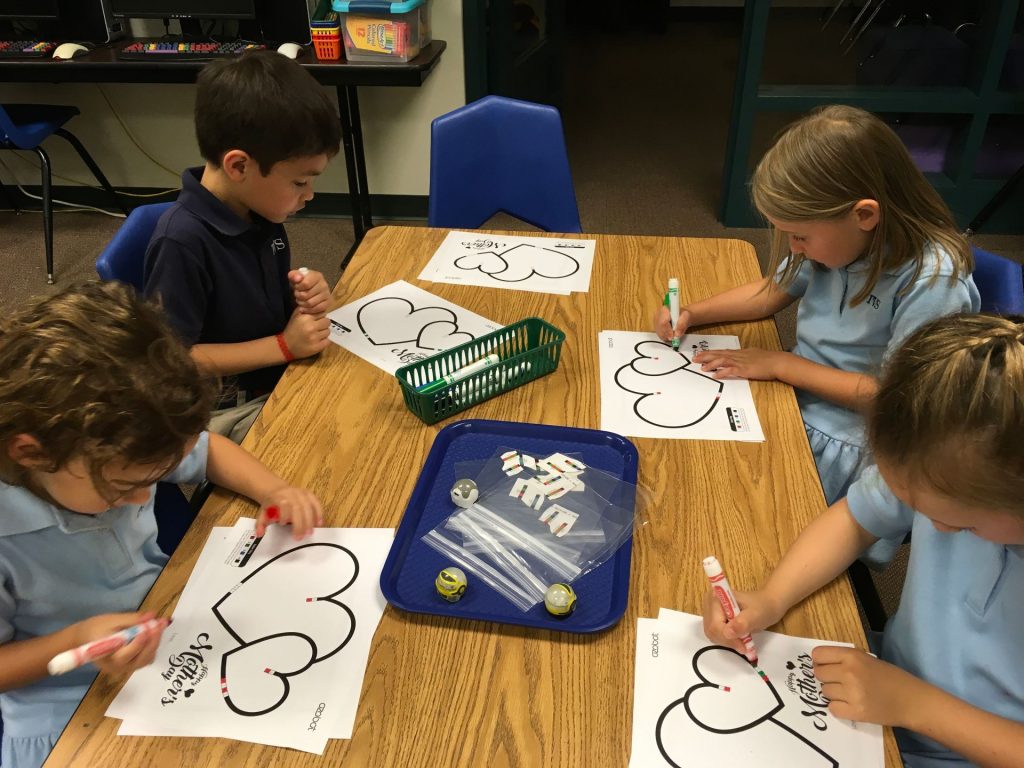 The Ozobot website has TONS of fantastic lessons and I chose the Mother's Day Card. This type activity is perfect for the youngest users because all they have to do is use the key to color in the small squares (great fine motor practice!). For the first group, we were fortunate to have some fantastic fourth grade helpers.
The next lesson segment was using Ozoeasy sticker codes. These are small, round stickers that have codes printed on them. This is fantastic for younger children because it really can be a bit tricky to draw a perfect code that the Ozobot can read. Even my 4th graders struggle with this. The best part about these sticker codes is that they are the brainchild of a now 9 year old boy, Holden, along with his brother and dad. Our students love to hear Holden's story because, "If he can invent something, we can too!" Be sure to visit the Ozoeasy site and scroll down to read his story.
Each child was given a paper with a rectangular black path, 4 code stickers, and markers. As stickers were placed, they were challenged to have their Ozobot follow the path, first in one direction, then the opposite way. What's fun about the codes is that a different action is performed depending on which direction it travels. The students were also encouraged to draw paths inside the rectangle using red, green, and blue markers to see how the Ozobot reacted.
Oh, my! What excitement! It's SO much fun to see students engaged, experimenting, and working together. I'm sorry, parents; it's my guess that there were a lot of kindergartners who went home that afternoon to ask for an Ozobot! In fact, on the way out, one boy whose mom teaches first grade at our school, excitedly shared with me that she would be coming down to talk to me about the Ozobots. And, she did!
In the week since we've used the Ozobots, I've had several students ask me if first graders get to use Ozobots. They can't wait till school starts again!
Here's a video of the students with these little robots:
Save
Save
Save
Save