I love incorporating literacy skills into lab activities and bringing in technology is a fun and effective way to make predictions.
This year, I discovered the book, What's Under the Bed, by Joe Fenton. It's a quick, rhyming book about a boy named Fred who is trying to go to sleep but hears noises under his bed. He finally decides to check it out:  "One, Two, Three, Four . .  . It's time to look on the floor!" And, that's where I stopped!
Before class, I created a template and air dropped it to our shared iPads. When the students arrived, we worked together to add a name to their page and set up the drawing feature. After doing some predicting by discussing the title, I told the children they could illustrate as I read. We read till we reached the page where Fred was about to look under his bed. At that point, the directions were to:
finish illustrating your prediction,
write your prediction, and
record your prediction.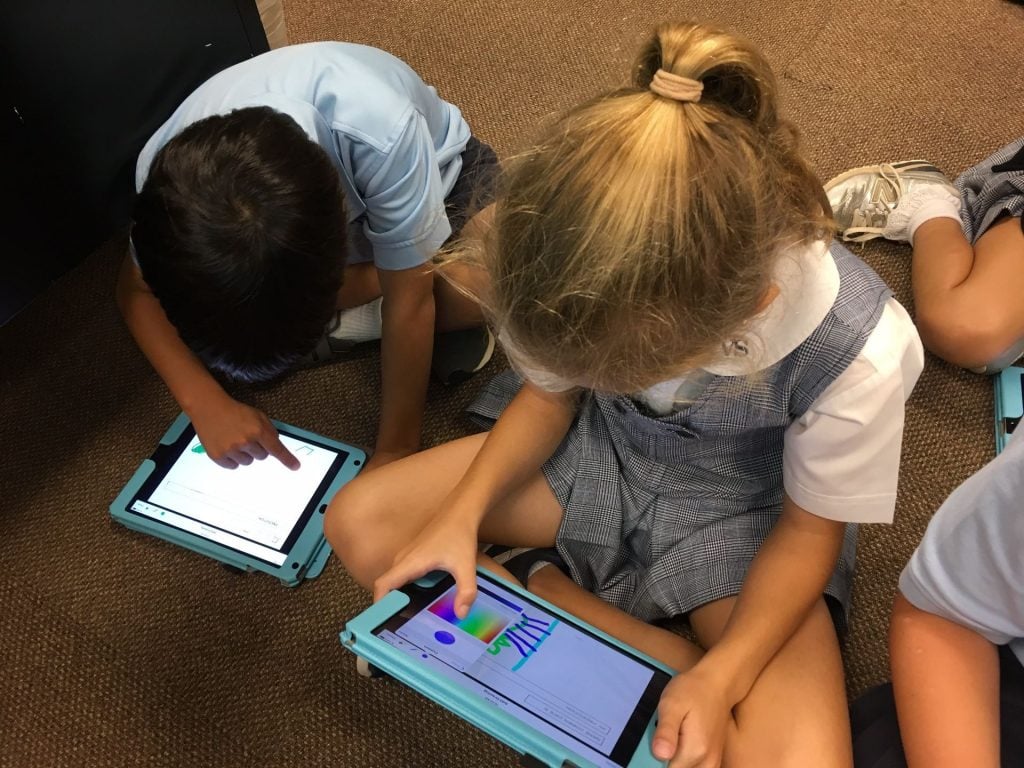 Instead of giving all the instructions at once, the students drew for about ten minutes. As they began to wrap up the drawings, I showed how to record. Soon all were off to various corners of the room, using our "telephone' mics or the recording cubes.
When everyone had completed their one-page book and air-dropped it to me, we finished reading. What is great about this book is that there are visual clues to what is under the bed. It's several pages back and you have to watch to catch it. This was a great way to discuss how important it is to look at ALL clues – in the text as well as in the illustrations!
Making Predictions with Second Graders from Trinity Valley School on Vimeo.
The class ebooks can be read on an iOS device (iPad or iPhone) by following the directions below. This eBook will NOT work properly on any other device (i.e. Kindle, Android tablet or phone).  However, the books have also been saved as a video that can be seen on any computer or mobile device.
Instructions for Viewing Books and Videos:
If you are downloading the ePub books, remember that you need to click on the book link while on an iPad or iPhone that has the iBooks app. Choose download and open in iBooks.
Click on the word "book" or "video" to view the projects.