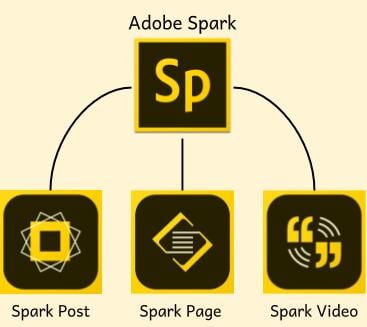 The Adobe Spark family of tools are my new favorites! There is SO much you can do with them! I've used Spark Video for awhile and certainly enjoy how quick and easy it is to create great movies. Spark Page, I've found, is a fabulous way to create a "newsletter" for teachers and parents since links, images, videos, and more can be added. Recently, though, I've had lots of fun creating posters, book covers, and title pages with Spark Post. Here's an excellent tutorial by Blake Lipthratt.
We create lots of class books with Book Creator and I've always used their built-in selection of colors and fonts to make the cover. However, after playing around with Spark Post, I am loving this for book covers! It definitely opens up new options!
You can choose from more than 300,000 images that are completely free to use. There is also the option to upload your own. The image below was added to a Book Creator class book. The uploaded picture didn't quite fill the space but changing the background color provided a nice frame.
Here's one of our finished class books where I took a photo of the story we were reading and uploaded it to Spark Post.
Notice the color scheme – Spark Post determines the colors in the photo and suggests a color palette to coordinate. Of course, you are always able to make changes to that. Below is a photo of a cover of the same book, but with a different color scheme.
Spark Post isn't just handy for book covers! With the app, you have the ability to make a "video" that's four seconds long. By video, it means you can add some effects or animations to the words or the image. For the text, options are:
For the photo, options are:
zoom

pan

grey (color saturation decreases)

focus (image begins out of focus and is brought into focus)

color (color overlay)

fill (image begins as black and fades into full color)
Once an effect is chosen, the share option is "Share post as video OR as image without animation." What I like is that this makes fabulous animated title slides in iMovie, Spark Video, Clips, Animoto, and so much more.
Here's a title page for an Animoto video. Isn't that more fun than just words to begin the video?
Below is a video created in iMovie that incorporates title pages made in Spark Post. This was added to the end of Book Creator to show parents the process students went through to make the book.
Process in making this video:

These are just a few of the ways Spark Post can be used. Time to move on to Spark Page!
How are you using Adobe Spark tools?