A few years ago, while attending the Building Learning Communities Conference, I listened to Alan November describe the importance of integrating technology within the curriculum rather than teaching it as a stand-alone subject. A participant raised her hand and asked, "What does that do to the computer lab teacher?" Alan chuckled and replied, "They become consultants like me!"
Well, I wasn't interested in becoming a consultant (working with children is my passion), but I did understand what Alan was saying. If we continue to teach technology as a separate subject, we are truly doing a disservice to our students. In this day and age, with information literally a click or tap away, we should be guiding children to learn how to:
research effectively.

find solutions to problems.

create content to share understanding.

communicate and collaborate effectively.

practice computational thinking.

take an active role in their learning. 
However, change can often come slowly due to a variety of factors! Here is my school's continuing journey from traditional computer lab to a makerspace/design area.
For several years I had the traditional computer lab setup – desktop computers that lined the walls. I never really liked that but in the space we had, that was the only setup we could do. However, there are other ways to make changes. Renaming the space to the Digital Learning Lab was an easy way to show we were more than just computers. By this time, we had a class set of iPad minis that we used more than the desktops so the term "computer lab" had truly become obsolete.
iPads brought new opportunities for creating and computational thinking. The ability to make ePub books using the Book Creator app opened a new world for our students. Parents were thrilled to be able to read books that their child had illustrated and recorded! Here are a couple of books written by classes before Book Creator added the drawing feature to its app. Microsoft Paint was used for illustrations in the books.
Kodable, Lightbot, and Lightbot Jr were some of the early coding apps available for iPads. It's fun to watch children as they explore these type apps. You can almost "see" their thinking as they determine the steps needed to solve the problems.
Three years ago, a former art room was repurposed to become the Digital Learning Lab. The area was at least double the size of the old space! The computers still lined the walls but now we had room for additional tables. Having space for students to collaborate away from the computers was a HUGE improvement! We now had space for unplugged coding activities, creating paths for Ozobots, building with Legos to make stop motion videos, and so much more. This provided the much-needed boost in moving the lab toward a maker/designer area.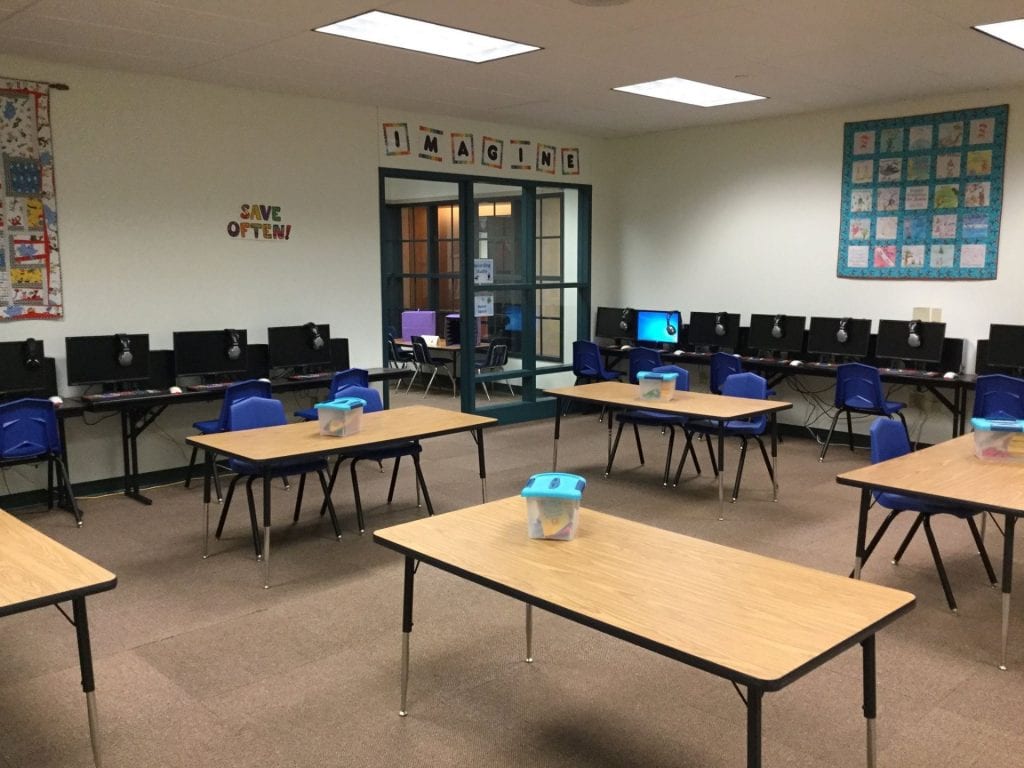 One major component I wanted to integrate into my lessons was a design thinking framework. There are various models but the one I like best for elementary students is Launch: Using Design Thinking to Boost Creativity and Bring Out the Maker in Every Student by A.J. Juliani and John Spencer. One of the stages of the Design Thinking model is empathy and it was that word that convinced me that changes needed to be made in how I worked with students! In this world of "ME" first, I believe it's imperative that we find ways to help children think about the feelings and needs of others.
Have you ever done something with your class that you weren't sure would work or not? But, when the activity was finished, you were amazed at the results? The following activity was my first attempt at Design Thinking – a simple idea that worked better than I ever expected! We have celebrated International Dot Day for years. Based on the book, The Dot, by Peter H. Reynolds, September 15th-ish is a day to celebrate creativity and to discover ways to make this world a better place. After learning about the empathy part of design thinking, I decided to combine this with our Dot Day activities. In the past, students had made some gorgeous dots, mostly digitally. This time, each person was paired with a partner and the dot they created was based on what their partner liked. They interviewed each other, took notes (even the first graders did this), then designed the dot FOR their partner. Was it easy to truly focus on the interests of someone else? Was it simple to design a dot for the partner without adding their own personal likes? No! It's human nature to want to add our own favorite touches. I was truly amazed at how well the children listened to each other and at the details they added to the dots! To learn more about this activity, read Design Thinking + Dot Day = Thoughtful Creation. 
The summer of 2017 brought exciting changes to the lab. Our headmaster, Ian Craig, met with me and we discussed the vision for technology in the Lower School. We agreed on the importance of students taking an active role in their learning; of providing a space where children could come to design, create, build, iterate, share. Money was found to purchase a storage cart so that supplies were more accessible to students. In addition, five round tables with whiteboard surfaces were ordered. Oh, my! I have to say I never had any idea how popular these tables would be! We've brainstormed. We've done table blogging to prepare for writing quality digital posts and comments. Students have sketched their designs before building as well as diagrammed adjustments when the original idea didn't work. Read about Bridge Building based on the book, 21 Elephants and Still Standing.
Another favorite addition last fall was a Lego Wall! Even the maintenance men left messages as they performed their magic to install the wall! Long lines of students greeted me each morning in hopes of getting a turn on the Lego Wall before the tardy bell rang.
Desktops were removed and replaced with a cart of 11" MacBook Airs – perfect size for smaller hands. Full-size iPads with lots of storage replaced the 1st generation iPad minis. This summer, a couple of beanbag chairs and wobble chairs were added. (We purchased Ace Active Sitting Stools).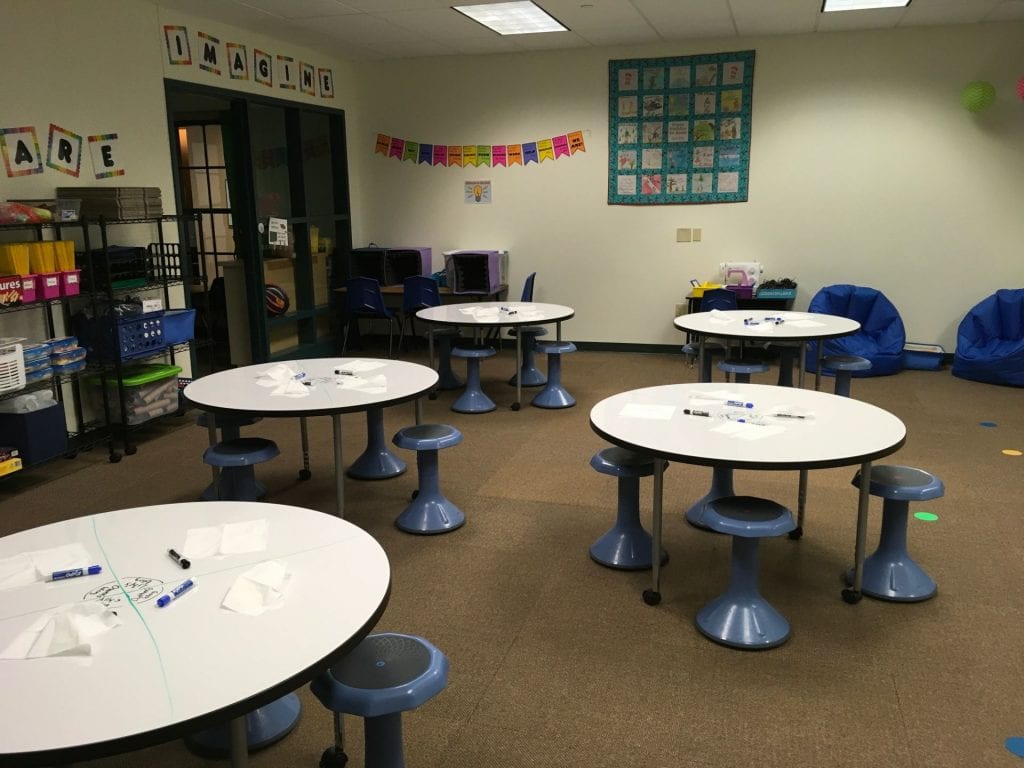 With these changes, it was again time to rename the Lab. Innovation Lab was a favorite with the adults but students disagreed. They overwhelmingly voted for iLab. The "i" covered some very important descriptive words that we use in the lab.
This past year, our fourth graders participated in Genius Hour. Actually, the "hour" turned into days and then weeks! The students were SO excited to choose a topic to study. The rules were:
You must research something.

You must create something.

You must present something.

You must reflect on your learning (via blog or

Seesaw

).
I really struggled with whether or not the children were actually learning something. Yes, we had some students who needed extra guidance. Yes, there were those who required quite a bit of redirecting. Was it perfect? No, but I also learned what changes to make in the future. Overall, it was a huge success. What did the children learn?
Research techniques

Working collaboratively

Problem solving as they figured out how to build/construct/make changes

How to take charge of their own learning

Oral skills as they shared their learning

How to self-reflect and assess their progress
The more I observe children as they explore and create, the more I am convinced that we are on the right track. Moving from being in charge of the learning to supporting students as they become responsible for their own learning is a change that can be uncomfortable. For someone (me) who thrives on order, it's been especially hard. But, it has been well-worth it! As I walk around listening to the conversations between the children, I am in awe of what I hear. The depth of their discussions is incredible! Often, I'll hear something like, "Well, that first idea was a fail. Guess we need to try something different," or "First we had a huge mess up but then we got it to work!"
Here is our vision for the iLab:
Our journey is not complete! I am constantly learning from others and discovering best practices for the students. The iLab is not filled with an abundance of high tech maker tools and that's okay! We don't have a 3D printer or a laser cutter but we do have access to them. What's important to me is allowing students the opportunity to discover; to reflect on the process; AND to share what they have learned.
I would love to hear about your journey!
A Sample of What We Use in the iLab
Sphero

Robots

Cubetto

(hands-on coding for younger ages)

Legos

Kodable

app

LittleBits

circuits

Book Creator

(My go-to app for making class and individual books; very powerful yet easy enough for even the youngest children.)

Seesaw Digital Portfolios

(This has been a game-changer for us as students reflect on their learning and their parents get a glimpse into the school day.)

Books related to Inventing and Making
Resources: