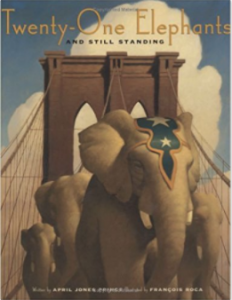 After a successful bridge building experience with second graders, I decided to give it a try with the third graders. The idea (from Playground Park Bench blog) is based on the book, 21 Elephants and Still Standing, a true story about the building of the Brooklyn Bridge. Click here to read the last post for information on the process.
This time I added pool noodles to the supplies. By the second class, it was apparent that those made the building process too easy. As a result, the last class didn't get that option!
Notice how close the supports are in this video. The students forgot they needed room for boats to go under the bridge!
What surprised me was that the second graders actually had more detailed drawings in their design process. But, the older students had the vocabulary with much talk about supports, beams, etc.
Here's a look at the process. 
It's interesting to see how each age approaches the challenge. Listening to their planning processes is amazing! I absolutely LOVED how respectful the students were to each other as they planned, built, and made changes. I'm eager to try this with first graders!