What is a pourquoi story? Ask Mrs. Garcia's second graders and they'll be able to tell you that it is a type of story that tells why something is the way it is. In fact, pourquoi means why in French. Rudyard Kipling's Just So Stories is a classic work of this genre. Do you remember . . .?
"How the Camel got His Hump" or
"How the Leopard got His Spots"
Many cultures have pourquoi tales that have been passed down through the ages. In a collaborative effort with technology and art, Mrs. Garcia's students explored some of these stories using the "making smaller circles" principle.
Josh Waitzkin, an eight-time National Chess Champion in his youth, attributes his success to learning techniques he developed to bring his mind and body to peak performance. In The Art of Learning, Waitzkin reveals his self-study to define techniques to maximize student achievement. One of those techniques he calls "making smaller circles."
In Mrs. Garcia's homeroom class, students practiced how to "zoom in" on pourquoi stories' problems, blocks, and outcomes.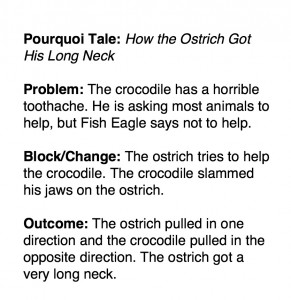 In Mrs. Black's art class, students focused on an aspect of a subject in the story to create artwork showcasing that "zoomed in" part.
Using technology, students created and recorded a class ePub book with the Book Creator app.
Using PowerPoint and an image from Pics4Learning I created a zoomed-in version of a zebra using the theme of "making smaller circles." This became the book cover for the ebook.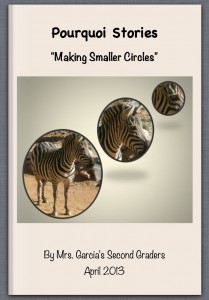 Mrs. Garcia, Mrs. Black, and I hope you enjoy the students' view of pourquoi stories.
Link to the class book: 
Pourquoi Stories: Making Smaller Circles by Mrs. Garcia's Second Grade Class
Directions to download book to your iOS device (iPad, iPhone, etc):
You will need the iBooks app (free) installed on your iOS device.
Click on the book link above (while on your iOS device).
Tap on the download button.
Choose Open in . . . and then choose Open in iBooks
The book is now in iBooks on your iOS device.
 Directions to read the ePub book on a computer:
You must use Google Chrome as your browser so that you can download the Readium app. The app will not work on any other browser.