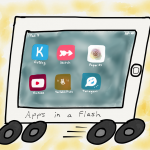 Another "Apps in a Flash" workshop took place yesterday afternoon.
We didn't have as many participants but that's okay. It's a hectic time of year!
Our topic this week was the Tellagami app (free from the App Store and Google Play). Tellagami lets the user create a short (30 second) animated video called a "Gami." An avatar is created that "moves" with the narration. There are some free backgrounds plus the option to buy others. What I prefer doing is to upload images from the camera roll.
You are able to save the finished "Gami" to the camera roll where you can use it in other apps (such as iMovie). Or the "Gami" can be emailed – that gives a link to where it is stored on the Tellagami site. From there, you are able to get an embed code for blogs.
Here is a PDF tip sheet for the app: Tellagami
There are all kinds of educational activities that can be done with Tellagami.
Draw a self-portrait and record a bio-poem. Embed in a blog or combine all to form a class video.
Add your own Tellagami to your blog as an introduction to your class.
Students can use it to introduce themselves at the beginning of the year.
Add images of landforms and describe.
Our kindergarteners make a display of a planet during their solar system unit. They could take a photo of their project then tell what they have learned. Combine into a class video.
Use for foreign language practice – take picture of vocabulary learned and tell about it in another language.
These are just a few ideas. What have you done with Tellagami? We would LOVE additional thoughts!