What a whirlwind week we had as we celebrated International Dot Day 2017! As students are beginning the school year, it's such a fun way for them to remember that we ALL are creative in our own way and we can also "make our mark" in so many ways.
I've compiled quite a few Lower School activities in Thinglink, TVS Celebrates Dot Day 2017. Below, I'll provide more detail than you'll find in the above link.
Design Thinking and Dot Day in Grades 2 – 4:
Like last year, I used The Launch Cycle, as a framework for a Dot Day Design Thinking project. Students were given a blank circle on a paper and partnered with a classmate. They were to interview each other and then design a dot for their partner that described that person. My goal in doing this was to get students to look outside of themselves. Sure, it's easy to create something for yourself. It requires good listening skills to create for another person! (Click here to get a much more detailed explanation of the process.)
To be honest, I was a bit concerned that the children would complain that they did this last year and wouldn't want to do it again. Over and over, though, I discovered that not only were they excited about repeating the activity, they remembered exactly WHO their partner was last year. AND, they could describe precisely WHAT their partner designed for them! I was amazed!!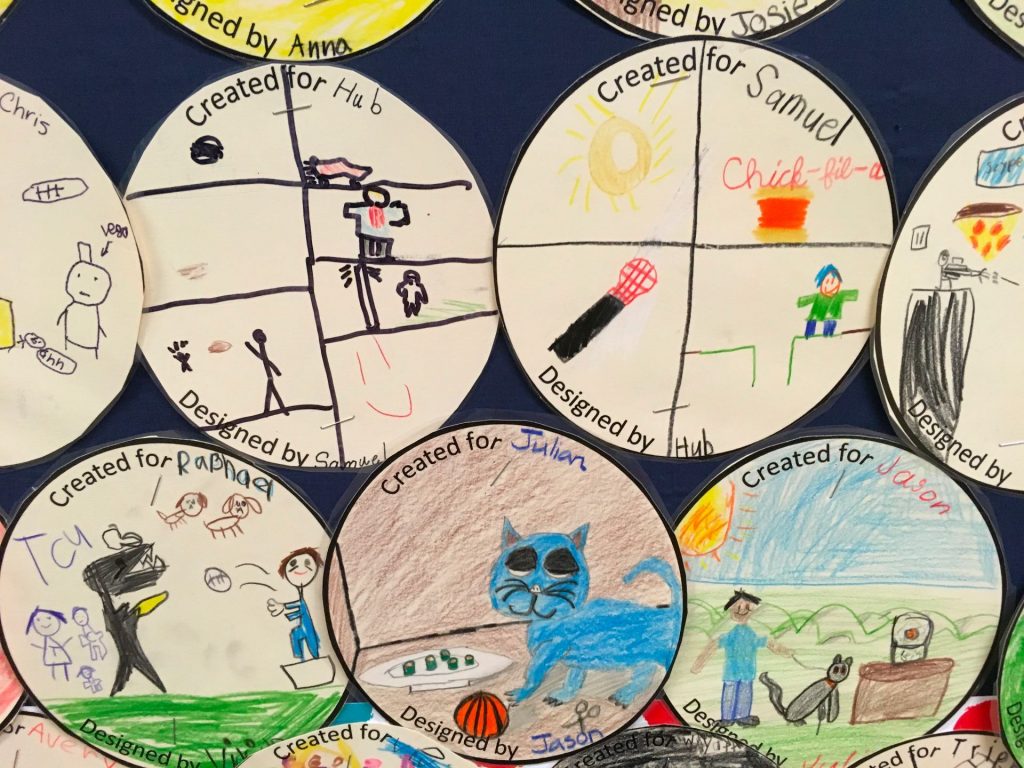 One pair had worked together last year and somehow managed to end up as partners again. When I discovered that, my response was, "Oh dear! I'm so sorry that I didn't catch that!" In a very matter-of-fact voice, one of the two replied, "That's okay. We've changed in the past year so we'll have different answers!" WOW!!
Another class came in rather loudly and I was having a some trouble getting their attention. I told them that we didn't have to do the Dot Day activity. From the back of the room came a small voice, "Noooo! We have to do this!" I was amazed that one activity from a year ago made such an impression! 
Making Dots Come Alive with the Quiver App:
Our first graders used the Quiver app for their Dot Day activity. Because it's difficult to color the dot and use the app in just 40 minutes, the children did their coloring before coming to class. When they arrived, we talked about how to use the app and I demonstrated with a dot I'd drawn. As the quiver app brought my picture to life, there were lots of oohs and aahs and they couldn't wait to get started! I asked the children to do two things:
Take a photo of the dot.
Video the dot moving around.
Both are really easy to do within the app. Later, we uploaded the videos to their Seesaw portfolio to share with parents.
Flipgrid: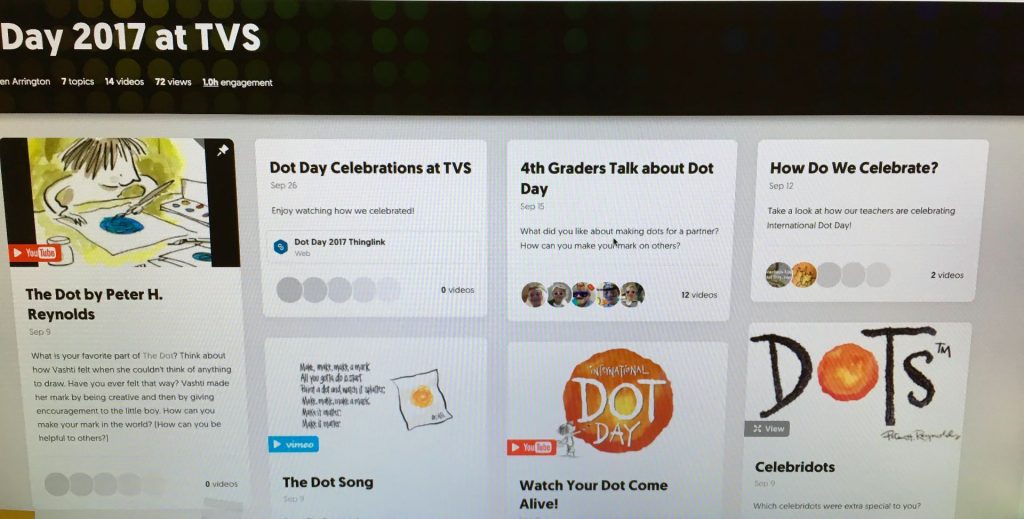 A latecomer to Flipgrid, I'd just started exploring it when International Dot Day rolled around so I really didn't get to do as much with it as I'd hoped.
A few of our fourth graders added a video telling what they liked about Dot Day.
"Hi, my name is Julian and I loved the dot day project because you get to meet new friends and learn more things about them." ~ comment from a 4th grader on our Flipgrid Dot Day grid.
Día Internacional de Puntos:
Once again our Spanish teachers incorporated Dot Day in their lessons. Sra. Ross worked with first graders creating Maya Spirit Animal Shields.

Using an idea from the Painted Paper in the Art Room blog, Costa Rican Oxcarts, Sra. Nedrelow guided her fourth graders to design oxcart wheels. Third graders designed beautiful flores!
Kandinsky Dots in Art:
Mrs. St. John, our art teacher, even had students create dots based on the work of Wassily Kandinsky. Her bulletin board displays were gorgeous!
There are SO many more activities that were done by our teachers! Be sure to view the Thinglink, TVS Celebrates Dot Day 2017, to see videos and more!
We LOVE celebrating International Dot Day!