Years ago, when we first started blogging with students, I always started with paper blogs and comments to help students focus on what makes a quality blog and a thoughtful, helpful comment. With our fantastic whiteboard table tops, why not blog directly on the tables before we move to Kidblog?
For the second graders, this is a new experience for them. And, although our third and fourth graders have been blogging since second grade, it's always a good idea to review at the beginning of each year. Before any writing, we brainstormed what makes a quality post:
interesting details
catchy title
proper punctuation and capitalization
spelling (won't be perfect but a good effort should be made)
We talk about T.H.I.N.K. and how important it is to ALWAYS be polite online!
And, then we table blog! I generally draw dividing lines on the tables only because student-drawn lines can result in some rather unequal sections!
It is fascinating to watch the development of the writing process from second to fourth grade. The vocabulary, sentence structure, progression of invented spelling to more traditional spelling are all interesting to follow from year to year. Using Kidblog is an excellent way to see that growth.
2nd grade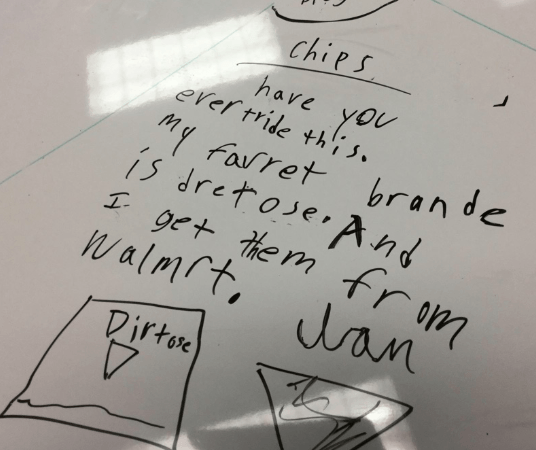 3rd grade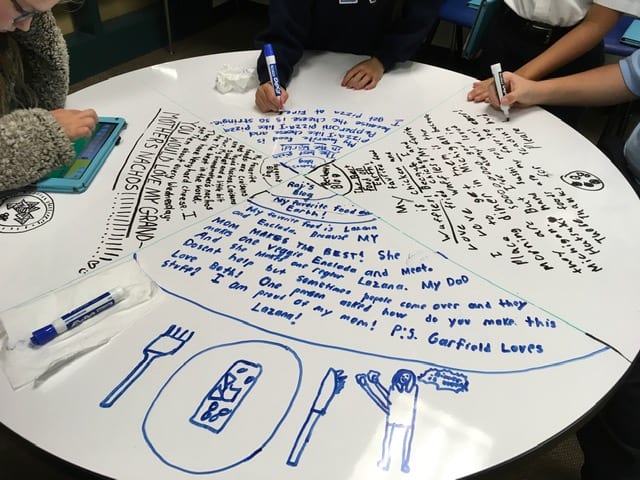 4th grade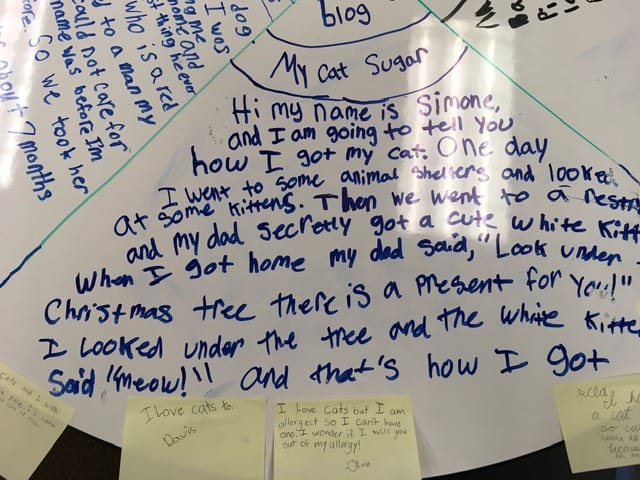 After blogging, we move on to commenting. Again, we spend lots of time talking about thoughtful, helpful comments – writing something that will start a conversation. Several years ago, I came across penny versus dollar comment. (I'm so sorry but I don't remember where that came from). Just as a penny can't buy anything, a penny comment is rather worthless. It doesn't help the reader at all. Examples are:
Wow!
Cool
that's great
a phrase instead of a sentence
Dollar comments ask questions, make a connection, provide helpful feedback, are written in complete sentences. However, the students have decided that we should say $10 comments instead of $1 since that doesn't buy much anymore!
Since I have 4th graders for a full week at a time, we blog one day then comment the next. I place 4 or 5 Post-It notes at each blog. Then, we play a version of musical chairs – they move till instructed to stop. At that spot, they read the post and any comments then write their comment. We do that 3 or 4 times before returning to their seat where they use the remaining Post-It note to reply to a comment.
The best part is the rich discussion that follows. Students share examples of  dollar comments, and they'll often say, "This is at least a $50 comment." Then, we move to penny comments (no names mentioned) and discuss how these can be changed to become a dollar comment. These comments always lead to how words can be interpreted in different ways. The writer may intend what they write to be funny but feelings can be hurt if the reader doesn't interpret it the same way. Online, a person's facial expressions can't be seen and that is an important clue in determining intent!
With the second and third graders, we take a photo of the writing which is then uploaded to Kidblog. I love how this girl is "spotting" her friend as she stands on a chair to take the photo.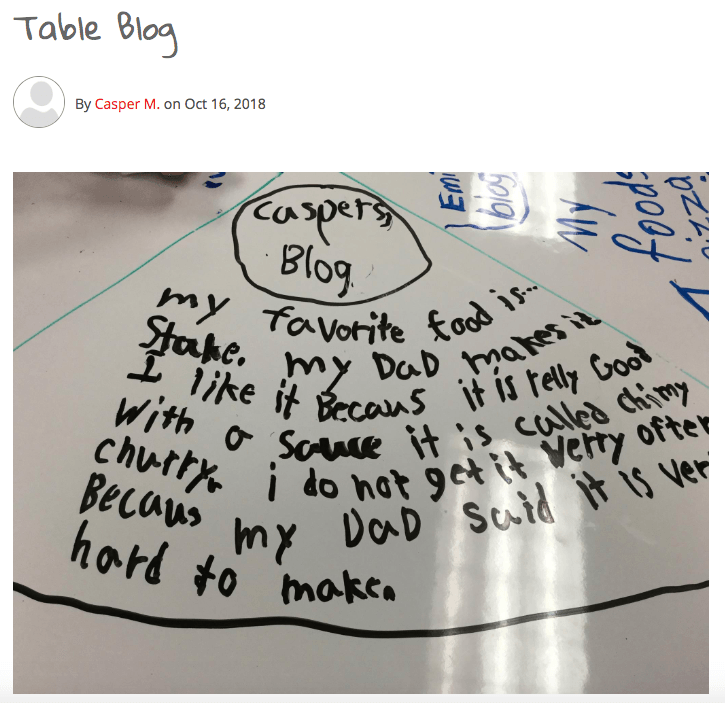 This week the 2nd and 3rd graders will leave comments on the posts that have already been uploaded. My plan is to have students draw a number stick to know whose blog to visit to leave a comment. As they finish a comment, they'll come up to draw another stick. Looking forward to seeing how this goes!
Here's a video of the 3rd graders as they worked on their table blogs.