What is more fun than writing on a table? You sure can't do that at home – at least it probably shouldn't be done!. This year, new round tables with a whiteboard surface were purchased for the Digital Learning Lab and the students could not wait to start writing!
To take advantage of the desire to write on the tables, we chose table blogging as a way to prepare for our online blogs.
First, we brainstormed traits that make a post one that people will want to read. 
The topic, because everyone enjoys food, was:  Favorite Food. Students were to consider these questions as they wrote:
Why do you like this food?
Where is the best place to get it? or "Who makes it"
The students set to work, making everyone hungry in the process!
When all were finished, we moved on to comments. Several years ago, I heard someone talk about penny vs dollar comments. Just as a penny doesn't buy anything, a penny comment is basically worthless. It may be only one or two words. It doesn't provide any feedback for the author. What we want to do as a commenter is to continue the conversation. A dollar (and up!) comment provides helpful feedback (I always have to say that does not mean you correct spelling!), asks questions, makes connections. It's more than just a sentence!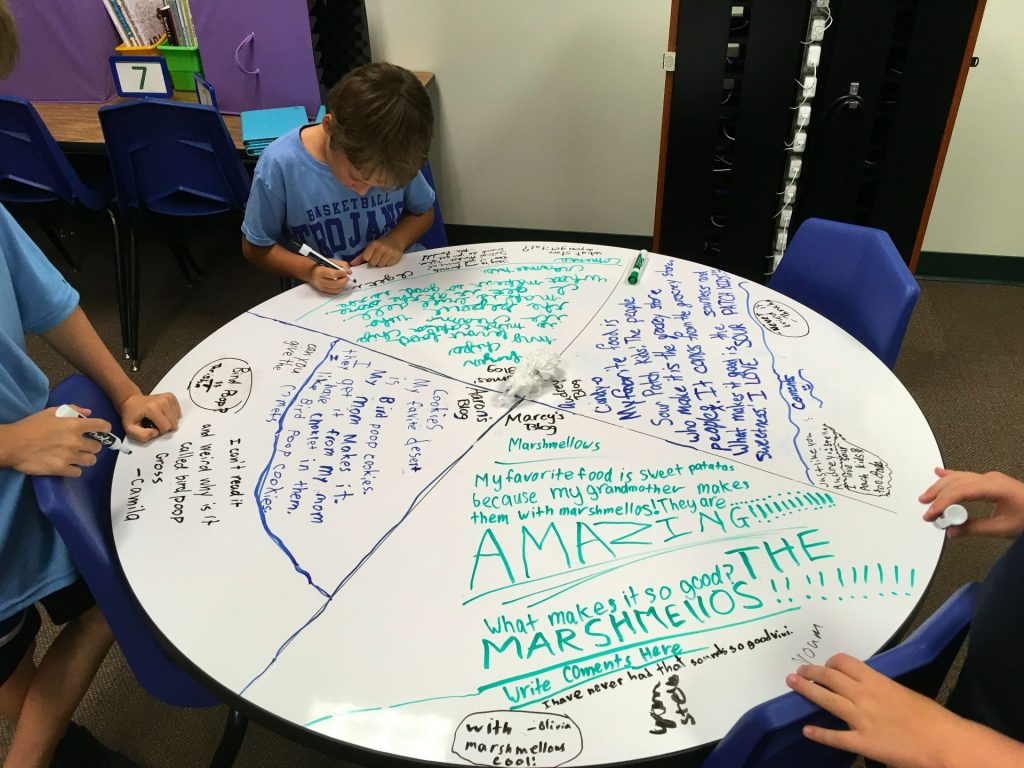 To comment, we play a quick version of musical chairs. The students walk around then sit as soon as I have them stop. They are told to read the post as well as any comments that have already been written before writing anything. We do this about three times. Finally, they return to their seat to read their comments. I ask them to reply to at least one of their comments.
To wrap up everything, we discuss the types of comments received (without naming names). I want the students to determine the "value" of the comment mentioned and, if worth a penny, how it could be improved to become worth a dollar.
We hope this exercise will transfer to online blogs!
Here's a sample of 4th graders working on their blogs and comments. 
More Table Blogging Videos: 
Mrs. Malone's Class (coming soon)